About Us
He is your friend, your partner, your defender, your dog. You are his life, his love, his leader. He will be yours, faithful and true, to the last beat of his heart. You owe it to him to be worthy of such devotion." – Author Unknown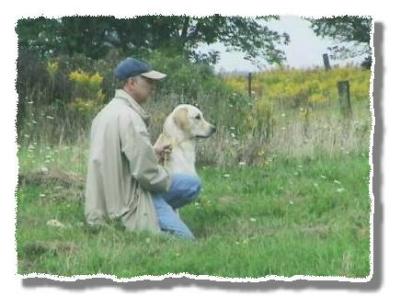 Our love for Goldens began with our Bailey "Gerret's Jessamine of Avonrose CD, WCI, JH, CGC" in March of 1995. Bailey was purchased as a pet, but through her we began a friendship with her breeders, which led to obedience trials, retrieving and conformation. Bailey was the queen in our home until her passing in November 2006. In 1998 we purchased our foundation bitch Sherhaven Trilogy of Braefield CD, WC, JH from Sherhaven Kennels and in 2001 our first litter came along. Later in 2001 we were given the opportunity to have another bitch from Liz Sherren, Sherhaven's Thyme of Your Life, which then gave us two different lines to breed from. Braefield Reg'd Golden Retrievers is a blend of Canadian/British/European lines, located on the outskirts of the Village of Cayuga. Here we live with our now 12 furry kids, enjoying the "Golden" life.
Throughout the years we have enjoyed and participated with our goldens in CKC events such as obedience trials, conformation shows, working certificate trials and Junior Hunt trials.
We have produced numerous Champions, Grand Champions, both Show and Obedience Champs, all levels of retrieving titles and many therapy dogs.
We are very proud of all of our puppies:-) When not showing, our goldens are lounging and playing with us and each other. We do not have a kennel building…our goldens are our much loved pets and companions! They are all couch and bed hogs, who fill our homes with their wagging golden tails. We wouldn't have it any other way!!!
                                             Members of
The Canadian Kennel Club
The Golden Retriever Club (United Kingdom)                                       The Golden Retriever Club of Scotland                                                Mill Creek Retriever Club