Presents
Avonrose Braefield O'Tanenbaum WC, JH
Sire:
Ch Jazzmin Pebwin's Xtravaganz OS 
 Dam: Ch Gerret's Wind In The Willows CD, WCI, JH, GRCC VC
Whelped:
January 1, 1999 – December 16, 2007
OVC# 007124 Heart OFA Normal 2000
Tanner @ 8 years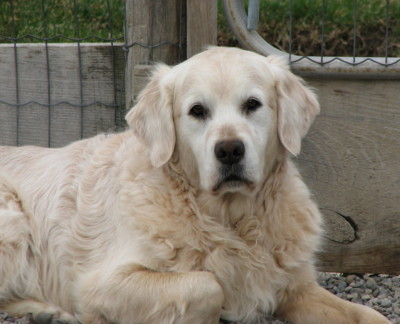 Tanner was a gentle boy, but also like a Tank, no matter what life hit him with, he would never go down! Even when he ran head first into the tree, he just shook it off and continued on his merry way.
But, eventually Tanner's epilepsy caught up with him and he was unable to fight any longer. The 'gentle giant' left us peacefully in his favourite human's arms – his dad's.
Pedigree of "Avonrose Braefield O'Tanenbaum WC, JH"

Parents
GrandParents
GreatGrandParents
SIRE

Ch Jazzmin Pebwin's Xtravaganz OS     

 

Am/Can Ch Pebwin Excel Am/Can OS

 Pebwin's Tangleloft Bacardi

Bargello Pebwin's Teasel CD

Synergold U Jazzmin

Flyway Aviator

Synergold Amity

DAM

Ch Gerret's Wind In The Willows CD, WCI, JH, GRCC VC

Ch Otch Camrose Betimmy Am UD, OS

Lovehayne Betimotei of Camrose

Eng Sh Ch Grymia Wystonia of Camrose

Sherhaven Rimfire Daisy Chain

Can/Bda Ch Mjaerumhogda's Kyon Flying Surprise CDX, GRCC OS

Ch Sherhaven's Winsome Ways CD, WC GRCC OD
Click back on your browser to see more of our Dogs