Presents
Gerret's Jessamine of Avonrose CD,WCI,JH,CGC "Bailey"
Sire:
Ch Sherhaven's Something Special CDX, WC 
 Dam: Can. CH. Gerret's Wind In The Willows Can. CD WCI JH GRCC VC
Whelped:
January 22, 1995 to November 24, 2006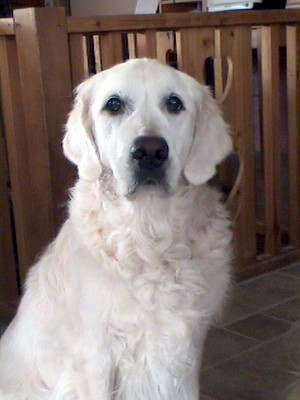 Bailey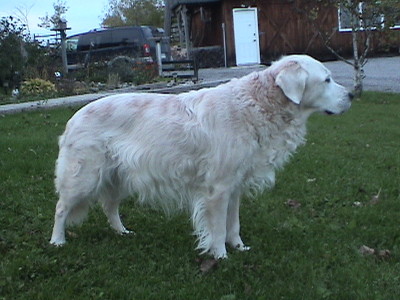 Bailey @ 11 yrs 9 mons Oct 2006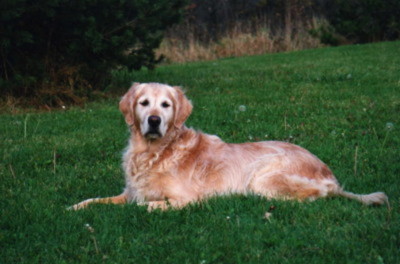 Achievements:
Today, with great sadness, we said good-bye to our dear Bailey. Bailey was our first Golden, the girl who taught us so much and gave us "retriever fever". She brought so much joy and laughter into our lives and to the many lives she touched. Bailey was always the character who knew how to rangle a treat out of just about anyone. She would go through her bag of tricks, sit, down, finish, bang your dead, high five, stand, speak and end up jumping up to give a kiss! Who could then not give her a treat! Bailey did not care much for obedience work "BORING", but came alive in the field. She was my steady and reliable bird dog, until a cruciate ligament injury put her into retirement. She then became the offical couch potato and door greeter. No one coming looking for a pup got by Bailey. She was so smart. When the others would be enticed to run out the back door, Bailey always stayed in the house and went for the front door….company always comes through the front door! So, everyone first met Bailey. We have so many wonderful, happy memories of our Bailey Boo. She was a beautiful and very much loved girl. God speed Bailey, I hope you and Hannah have found each other. We love and miss you.
"If It Should Be"
If it should be I grow frail and weak
And pain prevents my peaceful sleep,
Then you must do what must be done
When this last battle can't be won.
You will be sad, I understand.
Selfishness might stay your hand.
But on this day, more than the rest,
Your love and friendship take the test.
We've had so many happy years
That what's to come can hold no fears.
You'd not want me to suffer, so
When the time comes, please let me go.
Take me where my needs they'll tend,
Only — stay with me until the end.
Hold me firm and speak to me
Until my eyes no longer see.
I know in time you, too, will see
It is kindness that you do for me.
Although my tail its last has waved,
From pain and suffering I've been saved.
Do not grieve it should be you
Who must decide this thing to do.
We've been so close, we two, these years,
Don't let your heart hold any tears.
(Author Unknown)
Pedigree of "Gerret's Jessamine of Avonrose CD,WCI,JH,CGC "Bailey""

Parents
GrandParents
GreatGrandParents
SIRE

Ch Sherhaven's Something Special CDX, WC     

 

Can. CH OTCH Chiendor's Deerfield Winchester Am./Can. WCX ***, AmCD

 Can. CH Rancher Of Yeo Can. CD

Chiendor's April Delight Can. CD

Can. CH Sherhaven's Winsome Ways Can. CD WC OD

Beckwith's Echo Of Loch Tay (Am. ptd.)OS

Sherhaven's Shady Lady Am CD Can. CDX, WC

DAM

Can. CH. Gerret's Wind In The Willows Can. CD WCI JH GRCC VC

Can. CH. OTCH. Camrose Betimmy Am. UD OS

Lovehayne Betimotei of Camrose

Eng. SH. CH. Gyrima Wystonia Of Camrose

Can. CH Sherhaven Rimfire Idol Eyes Can. CD, OD

Can. Bda. CH. Mjaerumhögda's Kyon Flying Surprise Can. CDX, OS SDHF

Can. CH Sherhaven's Winsome Ways Can. CD WC OD
Click back on your browser to see more of our Dogs