Presents
GCh Braefield Got My Flash On
"Jonesy"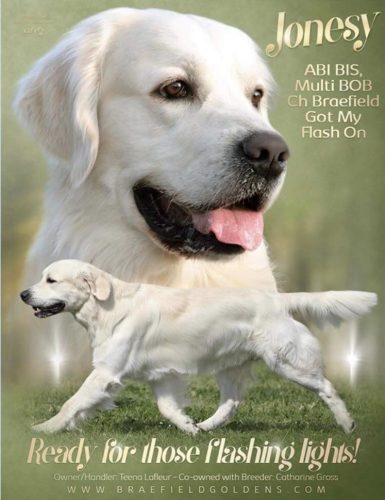 sire ~ 
GCH Thornywait Paparazzi
dam ~ 
Braefield Tilted Kilt
D.O.B. November 23, 2019
Heart – GR-BCA1474/17M/C-VPI; Eyes – GR-EYE23252/28M-VPI
OFA Hips GR-137107E28M-P-VPI; OFA Elbows 1:1  
Embark #EM-27195522
PRA 1 & 2 Clear
PRCD Clear
Ichthyosis Clear
Degenerative Myelopathy Clear
Neuronal Ceroid Lipofuscinosis Clear
Jonesy is loved, handled and co-owned with Teena Lafleur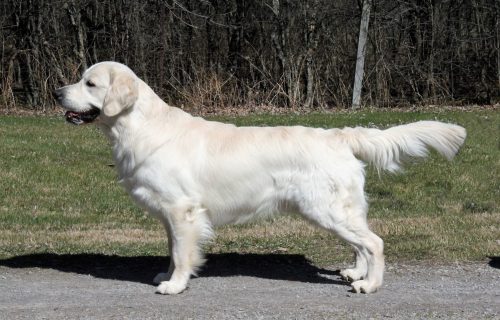 Jonesy at 16 months
March 20, 2021 ~ ABI Show
Show #1 ~ under CKC/UK Judge Mr Gordon Hayburn Jonesy is awarded Reserve Winners Dog
Show #2 ~ under CKC Sporting Dog judge Ms Heather Brennan Jonesy is BEST IN SHOW!!!!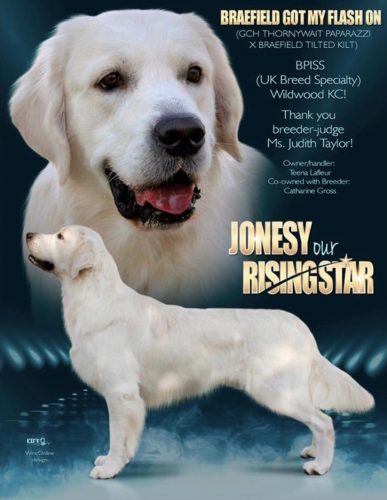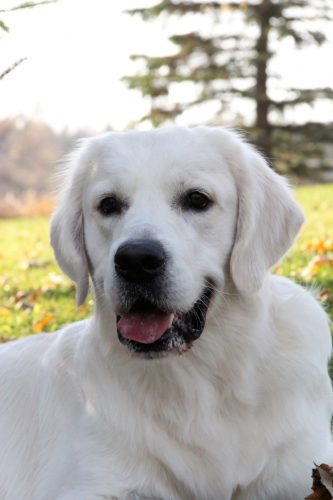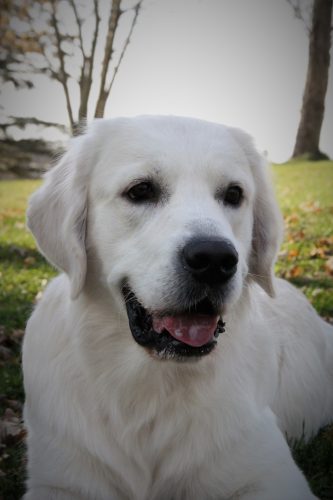 Oct 11, 2020 At the Wildwood KC "Covid" show, under Breeder Judge Ms. Judith Taylor, Jonesy wins Best Puppy In Specialty Show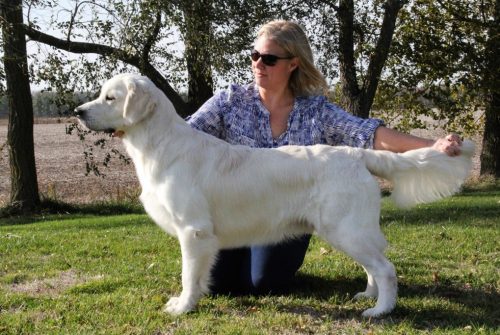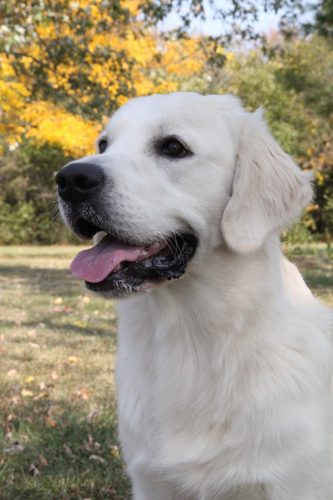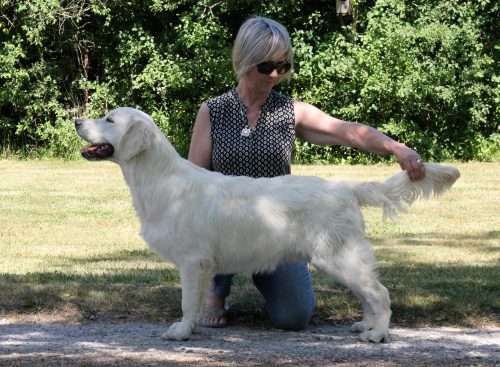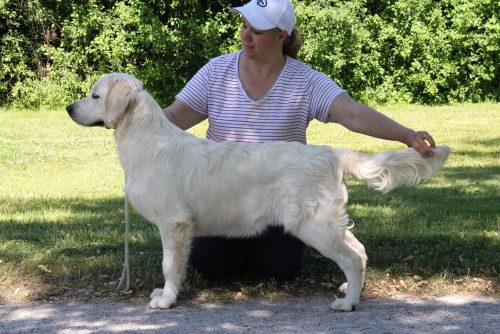 "Jonesy" at almost 7 months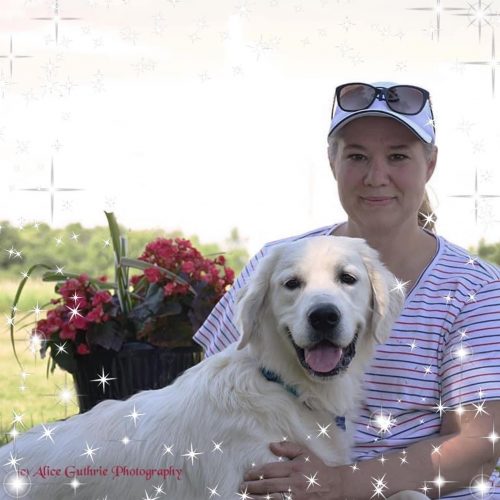 Jonesy and Teena
Jonesy is our wee stunner from our Teddy and Flirt litter.  There was just no denying that this boy will go on to be a Champ!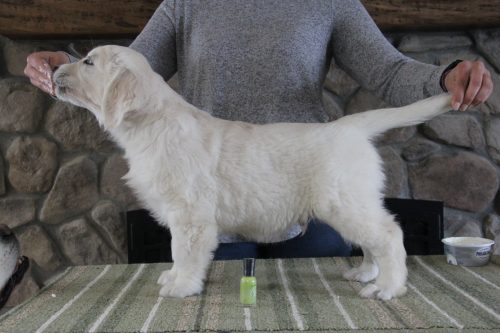 We are thrilled that Teena Lafleur made the decision to go "Gold" (she has Irish Red & White Setters) and that she chose Jonesy to be her first (and hopefully not last) Golden!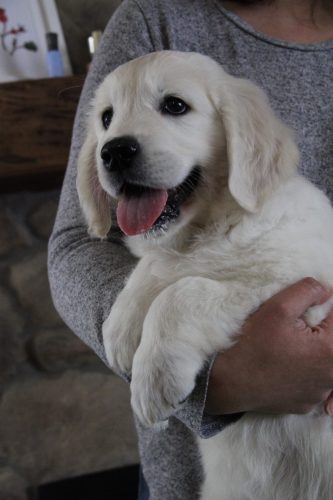 Once our world gets back to 'normal' look for Teena and Jonesy in the rings!!!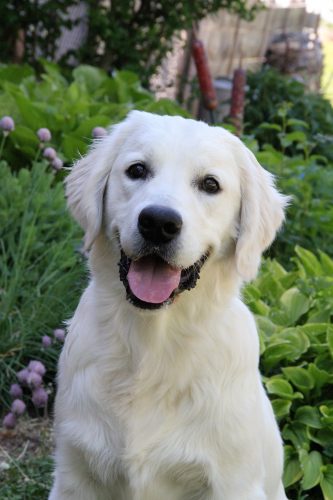 Jonesy @ 7 months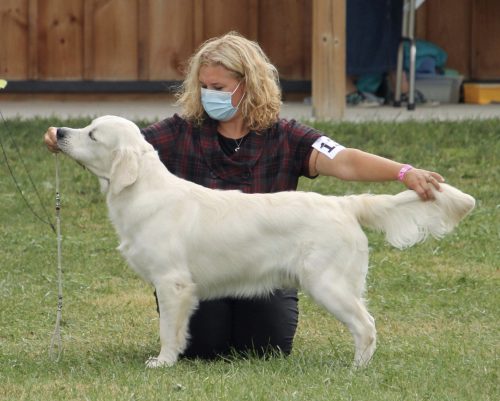 Jonesy winning his 9-12 month class at the Elgin KC show under Judge Mrs Elaine Whitney
Jonesy quite looking like his sire Teddy in a different shade of gold:-)
St Catharines Kennel Club
August 13, 2021 – Under judge Mr Bruce Owen, Jonesy goes Winners Dog for his first set of points.
Oakville Kennel Club
September 10, 2021 – Under Judge Ms Michelle Scott, Jonesy goes BOB from the classes.
September 11, 2021 – Under Judge Mr Davor Javor (Croatia) Jonesy goes Winners Dog and New Champion!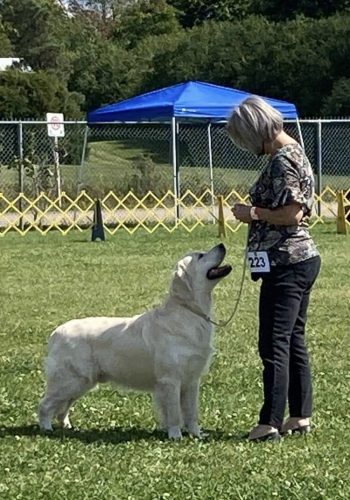 September 12, 2021-
Show #1 Under Judge Denis Kuzelj (Slovenia), Jonesy is placed 4th in his class.
Show #2 "Dogs of Britain and Ireland" – Under Judge Mr Jeffrey Horswell, Jonesy goes Best of Breed for his First set of Grand Champion points
Woodstock Kennel Club
February 21, 2022 ~
Jonesy goes Select Dog under Judge Mr Gordon Hayburn.
The Golden Retriever Club of Greater Toronto Specialty
June 5, 2022 ~
With a large entry of 78 Goldens (38 Males) Jonesy goes Select Dog for 5pts under Judge Mr Rony Doedjins – The Netherlands.
Sept 9,  2022 ~
Oakville KC – Under Irish Judge Mr. Anthony Kelly, Jonesy goes Select Dog and obtains the finals points needed for his Grand Champion title!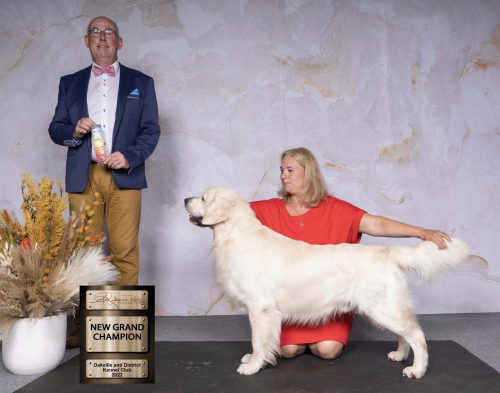 Pedigree of "GCh Braefield Got My Flash On "

Parents
GrandParents
GreatGrandParents
SIRE

GCH Thornywait Paparazzi (UK import)

UK Ch Tesoro De Ria Vela for Thornywait JW
Multi Ch Ritzilyn Rick O'Shay
Sp Ch Sailor Moon de Ria Vela
UK Sh Ch Putjade Partypingla at Thornywait JW
Swed Ch Floprym Rivaldo
Putjade Paint the Town Red
DAM

Braefield Tilted Kilt Ch ptd

GCHB Linirgor Tartan and Tweed (Scottish Import)
Can Ch Linirgor Spin The Bottle JW
Sh Ch Linirgor Violets Are Blue JW
CH Dutch Consolidation Sunday Mirror WC (NL Import
Ch Ger/VDH Joyous Sunday Bloody Sunday
Ch Dutch Consolidation Londonderry NL/Ger Ch, CW '11