Presents
Ch Braefield's Book O'Wishes WC
Sire:
Ch Kyon's True Patriot Love
 Dam: Sherhaven Trilogy of Braefield CD, WC, JH
Whelped:
November 21, 2003 ~ April 20, 2016
Hips & Elbows OVC # 0027966; CERF GR-30347/2009–72; GR-CA19771/15F/C-PI; GR_PRA1 Optigen $ 11-1889 "Normal"

Our Paige, mummy of three of our girls and Grant's very best girl.  Paige was a wonderful girl who just adored her daddy.  It was quite pathetic how Paige would follow Grant around the house and cry for him to give her a belly rub, a cuddle and a few kisses.  So when our dear girl fell ill it was so hard to believe that she would soon be leaving us.  Then quietly one night Paige decided she was ready and she took her last breath.  The only comfort we had was knowing that Paige lives on in her daughters and their progeny.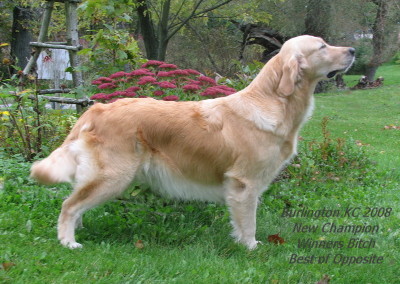 Paige @ 4 1/2 years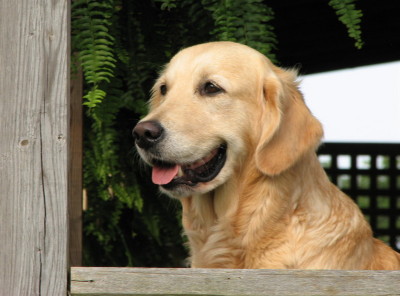 Paige 4 1/2 years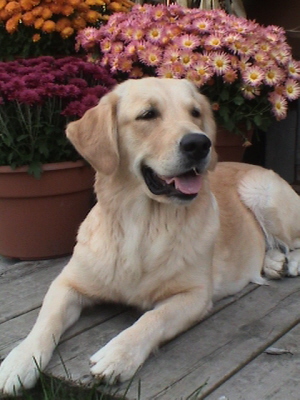 Achievements:
Paige is one of our Trio daughter's, the baby sister of George and Briar Rose.
She is a very nicely built and pretty girl with a wonderful outgoing and confident temperament.
Paige is our cuddly girl who loves nothing more than being adored.
We are so pleased with Paige showing so well and obtaining 5 pts towards her
Championship at only 17 months old, and placing 3rd in the Bred By class at the 2005 GRCC National Specialty.
Presently Paige is training towards her retrieving titles and is excelling in this area as well!
Guelph Kennel Club April 2005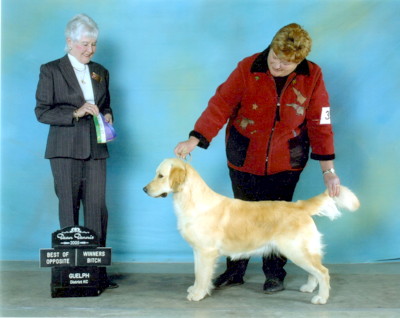 – Winner's Bitch & Best of Opposite under judge Gerona McCuaig
Erie Shores Kennel Club June 2007
– Reserve Winner's Bitch
Hamilton Kennel Club June 21,22,23,24, 2007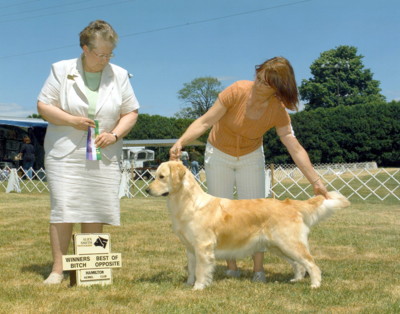 – Reserve Winner's Bitch
– Reserve Winner's Bitch
– Winner's Bitch & Best Of Opposite under judge Virginia Lynne
– Reserve Winner's Bitch
Burlington Kennel Club September 25, 26 and 27, 2008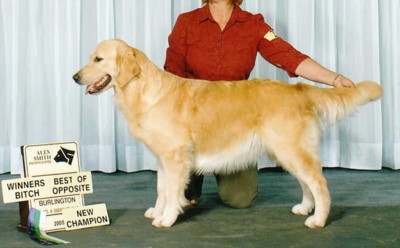 – Winner's Bitch & Best of Opposite under judge Sandra Lex
– 1st Open Class & Reserve Winner's Bitch under judge Lloyd Allewell
– New Champion, Winners Bitch & Best of Opposite under judge Joyce Love
We are so thrilled that after many years we have returned to 'retrieving' and our girl Paige, who hadn't been out in many, many years obtained her Working Certificate title at her first trial. At 8 1/2 yrs Paige completed her test in grand 'old lady' style:-)>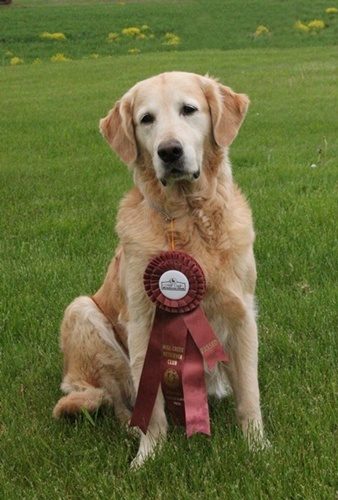 Pedigree of "Ch Braefield's Book O'Wishes WC"

Parents
GrandParents
GreatGrandParents
SIRE

Ch Kyon's True Patriot Love     

 

Ch Kyon's Hot Bugsey

 

Ch Kyon's Hot To Trot

Ch Kyon Brindy's Fancy Notion

Ch Kyon's Passionate Embrace

Ch Dewmist Santorini

Ch Kyon's Hearts Afire

DAM

Sherhaven Trilogy of Braefield CD, WC, JH

Ch/Otch Wingmaster's Ounce of Gold UDX,WC, GRCA VC, OS, CAN CD

Ch Elysian Sky Hi Duble Exposure UDT, MH**,WCX, GRCA VCX, OS

Ch Beaulieu's Irish Mist UD, JH, WCX, VCX, GRCA OD

Sherhaven Rimfire Daisy Chain

Ch Sherhaven's What A Gem

Ch Sherhaven Rimfire Teal for Two
Click back on your browser to see more of our Dogs