Presents
Braefield's Once Upon A Dream CDX, WCI, JH, GRCC VC, Ch ptd
Sire:
Ch Stanroph Spice Boy (English Import) 
 Dam: Sherhaven Trilogy of Braefield CD, WC, JH
Whelped:
October 25, 2002 – February 18, 2013
CERF GR-44666/2010-96; GR-CA19770/16F/C-PI; Elbows OVC# 021550


Briar Rose 8 1/2 years


My Beautiful Briar Rose

Achievements:
On February 18th at 11pm my heart shattered into a million pieces as I told my very best girl 'I love you' and let her slip away from me. It was one of the worse moments of my life.
Briar Rose was my special girl, my heart, my soul. She was my brightest star, my shadow, my life. Everyone that came here fell in love with Briar Rose. Her calm, loving nature, she would greet people and then just sit beside and gently lean on them….so she always got extra petting. Briar Rose just loved everybody she met.
With our pups, Briar Rose was 'the Nanny Rose'. She was the first one the mums would allow in to see puppies. BrIar Rose loved sticking her head into the whelping box and having the pups nudge at her face and bite and lick at her ears. She would stand there so long tail wagging. She played with each and every litter of pups, she loved them all.
I still can't believe she is gone, I miss her so. The porch swing will never be the same. My once in a lifetime girl….I love you Briar Rose.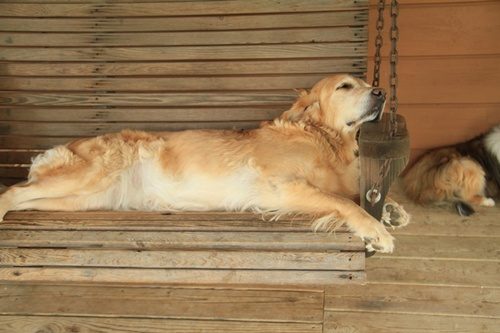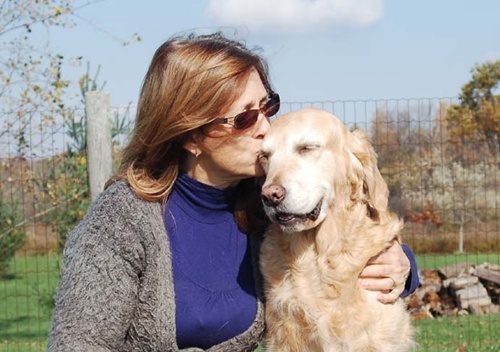 <
Briar Rose is our Trio daughter who has completely stolen our hearts.
A confident young girl that is a real cuddler. We are
expecting many great things from this girl as she takes after her dam
in her working ability and eagerness to please. Briar Rose is presently
training in both obedience and field work and we are loving every moment together.
See our "Brag" page for more information on Briar Rose's accomplishments!
Mountain Valley Hunting & Retrieving Club, July 2004 Briar Rose obtains her Working Certificate title
>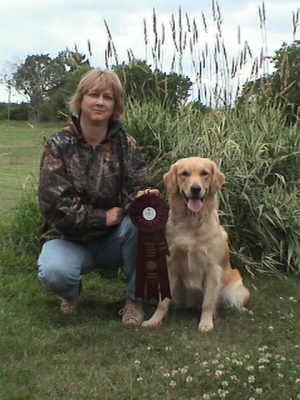 Golden Retriever Club of Toronto August 2004 Briar Rose earns her Junior Hunter Title
>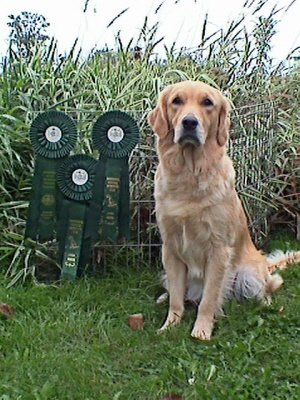 Hamilton Dog Obedience Club & Labrador Owners Club February 19 & 20, 2005
Briar Rose earns her Companion Dog Title in one weekend with 3 High in Class Scores in the 190's! >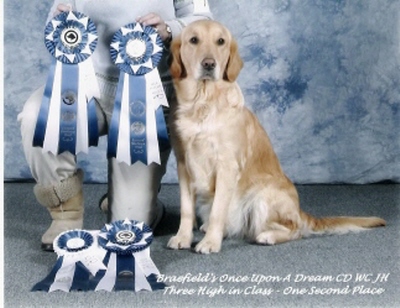 Hamilton Dog Obedience Club & Labrador Owners Club Feb 18 & 19, 2006, Briar Rose obtains her CDX title in one weekend again with high in class scores!
>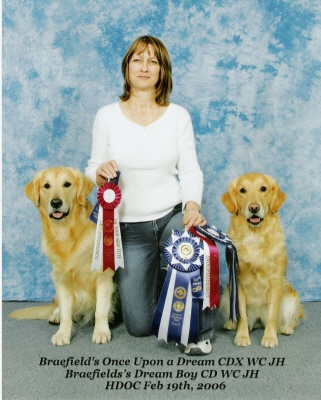 Hamilton Kennel Club July 17, 18, 19, 2009
-1st place Open Bitch Class, Reserve Winners Bitch under German judge Ms. Hassi Assenmacher-Feyel
-1st place Open Bitch Class, Winners Bitch, Best of Opposite under judge Ms Heather Logan
-2nd place Open Bitch Class under judge Michael Shoreman
>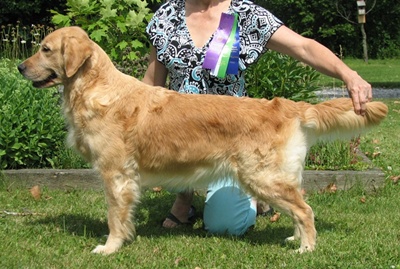 September 25, 26, 27, 2009 Burlington Kennel Club
-3rd Open Bitch under judge Allan Pepper
-2nd Open Bitch under judge Mark McMillan
-1st Open Bitch, Winners Bitch & Best of Opposite under judge Denise Cornelssen
We have started back into field training and as we promised her…
Briar Rose is now training for her WCI and maybe,maybe even her WCX in 2012!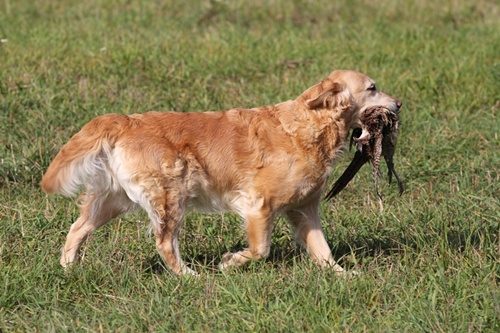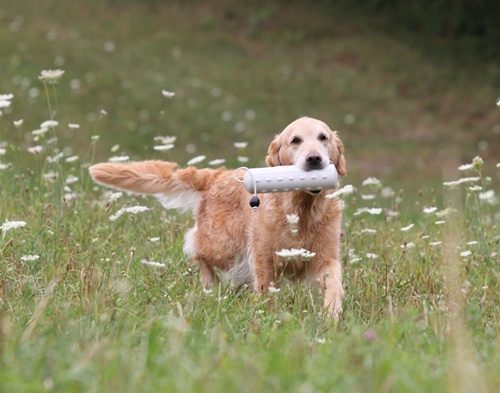 At 9 1/2 yrs old Briar Rose obtained her WCI title. This was after taking a break from retrieving for a number of years! I was just thrilled to see that for Briar Rose retrieving was like riding a bike…she picked up right where she left off years ago. I was so proud of my girly!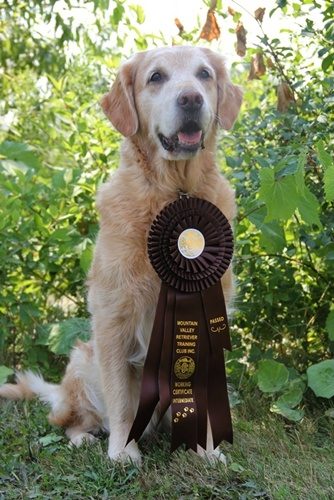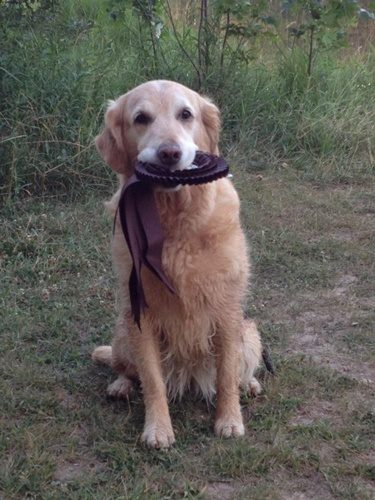 Pedigree of "Braefield's Once Upon A Dream CDX, WCI, JH, GRCC VC, Ch ptd"

Parents
GrandParents
GreatGrandParents
SIRE

Ch Stanroph Spice Boy (English Import)     

 

Eng Sh Ch Stanroph Shoe Shine Boy at Lindjan

 Eng Sh Ch/Aust Ch Tasvane Charles Henry

Stanroph Silent Tears

Eng Sh Ch Stanroph Spring Fantasy KCJW

Sansue Castalian KCJW, SGWC

Stanroph Shere Fantasy KCJW

DAM

Sherhaven Trilogy of Braefield CD, WC, JH

Ch Otch Wingmaster's Ounce Of Gold UDX. WC, VCX,, OS Can CD

Ch Elysians Sky Hi Duble Exposure UDT, MH**, WCX, VCX, OS

Ch Beaulieu's Irish Mist UD, JH, WCX, VCS, OD

Sherhaven Rimfire Daisy Chain

Ch Sherhaven's What A Gem

Ch Sherhaven Rimfire Teal For Two
Click back on your browser to see more of our Dogs